We celebrated NZ Poetry Day in style with a very well attended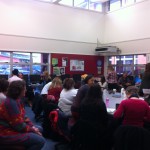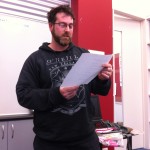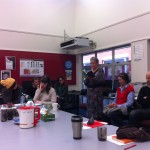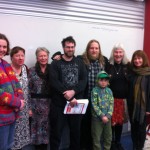 workshop taken by local poets Frankie McMillan and Kerrin P Sharpe and the announcement of the winners of the 2015 Hagley Writers' Institute NZ Poetry Day competition. Frankie was the judge and was very impressed with the quality and quantity of the submissions. In ┬áthe bottom right photo, L to R – Lucy D'aeth (Runner – up, Student section), Christina Stachurski(poet and tutor), Bernadette Hall ( Patron and poet), Chris Stewart(winner of student section), Doc Drumheller (poet) and 'mini-me', Kerrin P Sharpe(poet and tutor), Frankie McMillan (poet and judge).
Here are the results of the competition:
First – Chris Stewart – The noise ducks make
Runners up – Lucy D'aeth – September Hare
Lucy D'aeth – The songs of the bully sisters
Highly Commended – Chris Stewart – Because I never map the stars.
First – Marisa Capetta – My love in the Bindery
Runner up – Gail Ingram – The Dragon
Highly Commended – Jeni Curtis – So they went to the mountain, and A History of Kites.
Congratulations to them all.
There were 35 poems submitted in the student category and 21 from graduates.