Laura Borrowdale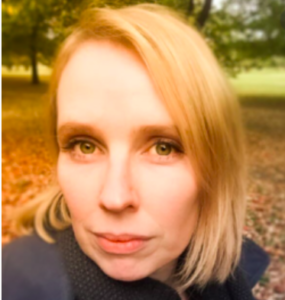 Laura Borrowdale is short story writer, with a focus on the feminist, the unsettling and the sensual. Her work has appeared in Landfall, Sport, takahē, Turbine, and Vice, among others, and her short story collection, Sex, With Animals, was published by Dead Bird Books in 2020. She is a Hagley Writers' Institute graduate, an English teacher, and was the founding editor of a literary journal called Aotearotica.
Ben Brown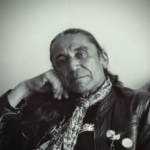 Ben Brown (Ngāti Mahuta, Ngāti Koroki, Ngāti Paoa) is an award winning children's author, a nonfiction writer, a poet and performer. He was appointed inaugural Children's Reading Ambassador for New Zealand, Te Awhi Rito in May 2021. Born in Motueka more years ago than he cares to remember, he now lives in Lyttelton, writing for his supper, reading for the love of it and otherwise reflecting on a new coalescence of words and where they might lead him. He is also the father of two, which he regards as his finest work to date.
Doc Drumheller
Doc Drumheller was born in Charleston, South Carolina and has lived in New Zealand for more than half his life. He has worked in award winning groups for theatre and music and has published ten collections of poetry. His poems have been translated into more than twenty languages, and he has performed in Cuba, Lithuania, Italy, Hungary, Bulgaria, Romania, Japan, India, China, Nicaragua, Mexico, El Salvador, USA, and widely throughout NZ. He lives in Oxford, where he edits and publishes the literary journal Catalyst. His latest collection is: Election Day of the Dead, Seventy Haiku from the Americas, Cold Hub Press 2020.
AJ Fitzwater
AJ Fitzwater lives between the cracks of Christchurch, New Zealand. Their work focuses on feminist and queer themes, and has appeared in venues of repute such as Clarkesworld, Beneath Ceaseless Skies, Shimmer, Giganotosaurus, GlitterShip, and in various anthologies. They are the author of rodent pirate escapades in The Voyages of Cinrak the Dapper, and the WW2 land girls shape-shifter novella No Man's Land. With a background in radio, AJ lends their voice to podcast narrations, including for the Escape Artists universe. They enjoy maintaining a collection of bow ties. A unicorn disguised in a snappy blazer, they tweet @AJFitzwater
Karen Healey
Karen Healey is the award-winning author of young adult novels When We Wake, While We Run, Guardian of the Dead, and The Shattering. She is the co-author of The Empress of Timbra (with Robyn Fleming). The genres she has written in include urban and epic fantasy, space opera, romance, horror, and cosy mystery. Karen is also a qualified English teacher and creative writing workshop facilitator, with years of experience in giving micro and macro critique.
Erik Kennedy
Erik Kennedy is the author of the poetry collections Another Beautiful Day Indoors (2022) and There's No Place Like the Internet in Springtime (2018), both with Te Herenga Waka University Press. Springtime was shortlisted for best book of poems at the Ockham New Zealand Book Awards in 2019. He co-edited No Other Place to Stand (Auckland University Press, 2022), an anthology of climate change poetry from Aotearoa and the Pacific, and he is the poetry editor for takahē. Originally from New Jersey, he lives in Ōtautahi Christchurch. More at: https://linktr.ee/erikkennedy.
Rachael King
Rachael King is an award-winning author with three novels under her belt: The Sound of Butterflies, which was published internationally and translated into nine languages; Magpie Hall, a gothic novel set in Canterbury and longlisted for the Dublin Literary Award; and Red Rocks, a middlegrade novel that won the Esther Glen medal in 2014. In 2008 Rachael held the Ursula Bethell Writer in Residence position at Canterbury University, which brought her to Christchurch, where she later became programme director of WORD Christchurch for eight years. At the end of 2021 she received a Creative New Zealand grant to write two linked books: a novel for children and a work of non-fiction. The Grimmelings will be published in early 2024.
Frankie McMillan
Frankie McMillan is a poet and short story writer who lives in Christchurch. She is the author of The Bag Lady's Picnic and other stories and two poetry collections, Dressing for the Cannibals  and There are no horses in heaven. In 2009 she won first prize in the New Zealand Poetry Society International Poetry Competition. In both 2013 and 2015 she was the winner of the New Zealand Flash Fiction Award. Frankie was awarded the Creative New Zealand Todd New Writers Bursary in 2005 and held the Ursula Bethell residency at the University of Canterbury in 2014. My Mother and the Hungarians and other small fictions (CUP) was published in August 2016 and was long listed for the 2017 Ockham Book Awards. Her latest book, The Father of Octopus Wrestling and other small fictions (CUP), has just been named as one of the top 10 fiction books of 2019 by The Spinoff. She is the 2019 recipient of the Peter and Dianne Beatson Fellowship.
Heather McQuillan
Heather McQuillan writes short fiction, flash fiction and poetry. Her flash fiction has been published internationally and has been selected for the prestigious Best Small Fictions international anthology in 2020, 2019 and 2017. In 2022 Heather was the recipient of the Flash Frontier Winter Writing Award and in 2021 she was selected as one of the winners for the inaugural RNZ Short Story competition. Her collection of flash fiction Where Oceans Meet and other stories was published by Reflex Press UK, 2019. She was co-winner of the 2018 Meniscus Copyright Agency Ltd Best Prose prize and winner of NZ National Flash Fiction Day 2016. She also writes for young readers and is a three-time recipient of the Storylines Notable Books Award (2020, 2012 and 2006) and winner of the Storylines Tom Fitzgibbon Award in 2005. She has a Master of Creative Writing with distinction from Massey University. Heather is the director and writing tutor at Write On School for Young Writers and is based in Ōtautahi-Christchurch.
Tanya Moir
Tanya studied with the Hagley Writers' Institute and received the Margaret Mahy Award in 2008 and 2009. Writing under her own name, she is the author of three novels,  La Rochelle's Road, Anticipation and The Legend of Winstone Blackhat, published by Penguin Random House NZ. As romance novelist Holly Ford, she is also the author of the bestselling Blackpeak series (Blackpeak Station, Blackpeak Vines and Storms Over Blackpeak, Penguin Random House NZ), The Last McAdam and High Country Hero, published in Australia and New Zealand by Allen & Unwin. Her books have been longlisted for the Commonwealth Book Prize, the International Dublin Literary Award and the Ockham New Zealand Book Awards, and shortlisted for the Ngaio Marsh Award for crime fiction. She won the Todd New Writer's Award for 2012 and the Buddle Findlay Sargeson Fellowship in 2013. Originally from Southland, Tanya now lives on Banks Peninsula.
James Norcliffe
James Norcliffe is an award-winning poet and educator, as well as an author of children's books. He has been awarded the 2012 University of Otago College of Education's Writer in Residence, and has been recipient of the 2006 Fellowship at Iowa University and the 2000 Robert Burns Fellowship at Otago University.
Ray Shipley
Ray Shipley is a Ōtautahi-based comedian, poet, and professional book-pusher. In 2019, Ray was nominated for the Billy T Award, the biggest award for the rising stars of comedy in Aotearoa. Ray has won the Christchurch Poetry Slam four times, and placed third nationally in 2018. Their poetry can be found in the anthologies Solid Air (UQP, 2019), and in Out Here (AUP, 2021), among others. Since 2020, Ray has been running Late Night Poetry Hour – a celebration of poetry and feelings and staying up past bedtime – monthly at Little Andromeda Theatre.
Ronnie Smart
Ronnie Smart is a Christchurch poet and writer of short dark fiction, who graduated cum laude from the Hagley Writers' Institute in 2017, and has since continued to train and develop through various courses online and in person. In 2018 he received a mentorship from the famous Australian horror writer, Kaaron Warren. He served as judge for the Australian Shadows Awards, and for the Australasian Horror Writers' Association Short Story Awards for 2018 and 2019. His writing has been published in numerous literary and genre venues, including Flash Frontier, Blue Fifth Review, takahē, Breach, Trickster's Treats 3, and in the poetry anthology Untimely Frost.